MKE Chimney Repair in Milwaukee, WI consists of a team of certified chimney technicians who provide a wide variety of chimney services, which includes chimney repairs, annual inspections, flue repair, chimney installation and more. Many in the Milwaukee who uses his or her chimney understand the importance of making sure that they have a fully functional, safe chimney.
Our technicians have received the necessary training and have the skills required to effectively perform the work that has to be done. We can provide our customers with a wide range of useful chimney services. When you need affordable and effective chimney repairs then call on us.
About Us
We are your locally owned and operated, fully insured, professional chimney company in Milwaukee, WI. When someone hires us to perform any type of chimney service, they can always expect us to be prompt and professional throughout the entire process. Milwaukee Chimney Repair Pros is the preferred and most widely used chimney repair service. We attribute this to a variety of things; one is that we are effective in all that we do, whether it is the installation of a chimney or necessary repairs to a chimney. Our customers can always expect to receive the best quality of services when they rely on us. You can always rely on our professional chimney experts.
The first thing that we will usually do when there is a problem with your chimney is to provide you with an inspection. We want to establish what the problem is so that we can effectively address the source of your problem and prevent any other problems from presenting itself. It is recommended that if you suspect a problem with your chimney that you give us a call to inspect it for you. We also recommend that you have an annual inspection to ensure that there are no problems with your chimney before you use it in the winter.
When you are having your chimney inspected annually, you don't have to worry about water coming into your chimney and creating mold and mildew. Instead of allowing this type of problem to occur, we recommend our tuckpointing services. We will make any necessary repairs to the mortar joints that have to be made to ensure that your chimney is protected from the damages of water.
Whether you need help with an existing chimney or you need a brand new chimney installed, you can rely on us to install it for you at MKE Chimney Repair. When you have a new chimney installion, make sure you rely on us, as we are the most reputable and efficient chimney installation service in the Milwaukee area.
Our technicians will identify whether or not it is your chimney cap or crown that needs to be repaired. We clearly understand what the difference between the two is even if the homeowner does not. We'll make sure that we perform a complete evaluation to determine which one is creating the problem and make any needed repairs.
When you call on us to service your chimney or make any needed repairs, we will make sure that there are no tiles in the chimney that could catch fire. If there are then this indicates a problem with your chimney flue, which we will quickly repair before any more tiles can get into the chimney.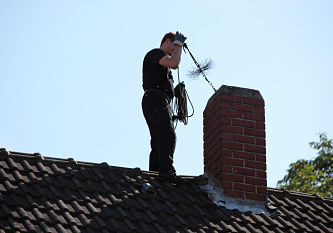 It is better to be safe rather than sorry. We know it may seem excessive but if you use your fireplace during the winter months then we highly recommend that you have a chimney inspection before using it. This could save you from having expensive repairs made later. With a thorough inspection, we can make any necessary repairs. An inspection is part of our chimney maintenance program.
Our chimney sweep will perform a thorough job of clearing away soot and ash from your chimney. They have the most effective tools to perform this type of work, which is something that the average person simply wouldn't have. They will make sure that your chimney remains safe for use by performing a complete cleaning of your chimney. If you require a chimney sweep, then we hope that you will consider contacting us, as we are often the first place many will turn to for their chimney needs.
"My parents stay cold and use their fireplace more than most people. We hire MKE Chimney to evaluate and service their chimney several times a year. They always let us know, far in advance, when we need to have repairs of any type made. They are good at what they do and that is why we are recommending their services." – John J.
"I wanted a chimney for our new house and when I contacted MKE Chimney Repair, they offered us the best price and the most beautiful chimney options. It looks great and we couldn't be happier with the results." – Stan R.
"We never had the chimney inspected and as a result, a lot of soot was coming into our house. When we contacted MKE Chimney Repair, they were quick about responding to our request for inspection. They even made the needed repairs the same day they came to inspect our chimney. I highly recommend their services." – Gary T.
When Should You Hire A Chimney Professional?
As a professional chimney repair company in Milwaukee, we can honestly say this answer is up to you. We believe it's always best to hire professionals to handle important tasks (and yes chimney issues are important). According to the statistics published by the Chimney Safety Institute of America, chimney fires cause more than $125 million worth of damage every year. That's something we never want to hear about from our clients here in Wisconsin.
If you haven't had your chimney inspected by a professional in 2 or more years, we highly recommend getting that done. If you hear loud popping noises coming from your fireplace or chimney (that's not associated with the fire), that's a sign something is brewing. And it likely won't be a great situation when it fully materializes. If you're noticing that smoke isn't quite leaving the fireplace properly, you have a serious blockage issue and need a professional chimney sweep quickly.
Water damage can also be a sign that the chimney is having trouble. If you see water leaking into the fireplace or chimney stack, it's time to call a professional chimney company. Tracing a water leak and fixing it is something you want a pro handling to ensure it's done correctly. Water can erode other crucial elements of the house over time.
Lastly, if you're a homeowner, look for a few common signs of a chimney fire. Sometimes, small chimney fires can occur in your chimney without you fully noticing, but these small fires are only setting up a large one down the road. Do you notice any warping in your damper? This is a common symptom of a chimney fire. Are you seeing any cracks throughout the chimney masonry? Is the roof showing any signs of damage near the chimney? Is the cap looking odd or deformed? These are all common signs that a fire has occurred and you need to call an expert.
Many times, homeowners insurance can help with chimney repairs. Check your policy to be sure, but we find that often there's documentation showing that a home policy can help with expenses if the damage is reasonably caused by the chimney failure. Again, we're not insurance professionals, so check with your agent or provider for specific details on your exact home policy.
Wisconsin - Contact Us Today
Many do not believe that they can afford to have chimney services performed when they need them. Trust us, this isn't something that should be overlooked if you use your fireplace. We work on more chimneys than almost any other company in the county. That's why we feel we're Milwaukee's #1 choice for service, cleaning and chimney sweeps. Check out our service areas to see if we are in your area. We make it affordable for you to receive the services that you need at Milwaukee Chimney Repair Pros so that you don't have to neglect the care of your chimney. With our help, you can go on using your fireplace like you always have. However, by allowing us to service it for you regularly, you're sure to have peace-of-mind. Why not find out just how affordable our services are by contacting us to discuss your many options with our helpful associates.